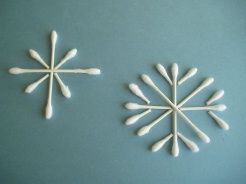 Supplies:
•Blue construction paper or cardstock (or whatever color of background you'd like)
•Q-Tips
•Glue
•Scissors (optional)
Directions:
Cut your Q-Tips in various sizes or, just use them whole for younger children. Use them to create beautiful snowflakes on your blue paper. Glue all of your Q-Tips in place and you're finished! Remember, no two snowflakes look alike!