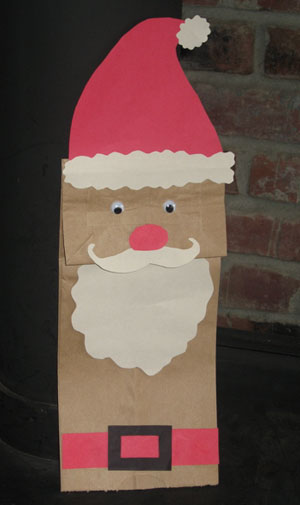 Supplies:
• Paper Bag
• Red,black and white construction paper
• Glue
• Scissors
• 2 Googly eyes
• Cotton balls
Instructions:
In Red, cut a heart shape for the inside of the mouth, the main part of the hat, a oval for the nose, a long rectangle for the belt.
In Black, cut a black buckle.
In White, cut a beard, a mustache, the bottom of the hat, the puff at the top of the hat.
Glue the heart underneath the flap of the bag. Glue the beard just bellow the flap. Glue the mustache on the edge of the flap overlapping a little. Glue the nose overlapping the mustache a little. Glue the white parts to the red main part of the hat, then glue the completed hat to the top of the bag. Glue white cotton balls to the white parts. Glue the black buckle to the red rectangle, then glue that to the bottom of the bag. Glue the googly eyes in place (If you don't have googly eyes, draw the eyes on with a marker).