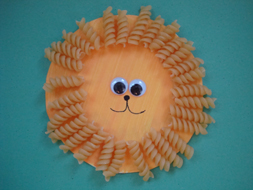 Supplies
• Rotini (spiral pasta)
• Paper plate or sturdy paper
• Paint and brush (if you're using a paper plate)
• Glue
• Black marker
• Google eyes (optional)
Directions:
1. Cut a circle from a paper plate or sturdy paper. If you are using a paper plate you will need to paint it yellow, make sure you paint the back of the paper plate (the eating side usually has a coating on it the makes it hard to paint on).
2. Glue your spiral macaroni all around the outside of your circle to make your lion's mane.
3. Once you have your mane glued on, add some eyes, nose and mouth!